Bus Service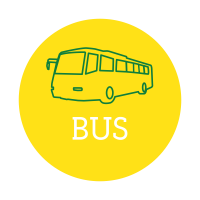 General Information
Te Kowhai School offers a bus service. To be classed as 'eligible' for this free bus service families have to meet the criteria of being further than 3.2 kilometres from Te Kowhai School. Te Kowhai School also needs to be your closest school (i.e. if you live closer to Horotiu School than Te Kowhai School, you are not eligible for the free bus service).
NB: Bus entitlement zones do not necessarily match with school enrolment zones.
Eligible to travel free - See the map (link at bottom of this page) to see if you are in the zone and therefore eligible for free bus transport. If uncertain, please contact Kerry Crossland for clarification.
Ineligible transport option - All ineligible students may still travel on the bus but are charged at $16.00 per week regardless of the days they do or do not travel. Our school will be charged monthly in advance.
Please have all students at their pick up points 5 mins before their pick up times.
Morning Route
8:10 am Pick up at Exelby Road just past the intersection
- Continue Te Kowhai Road
- Right to stay on Te Kowhai Road
- Right to stay on Horotiu Road
- Right into Onion Road
8:20 am To intersection of Ridge Park Drive to turn around
- Return Onion Road
- Right into Horotiu Road
- Left into Crawford Road
- Right into Ngaruawahia Road
- Left into Bedford Road
- Right into Collie Road
8:35 am To intersection of Couch Road and Collie Road – turn around
- Return Collie Road
- Right into Bedford Road
- Left into Horotiu Road
8:45 am To Te Kowhai School
Afternoon Route
3:00 pm To Te Kowhai School
3:05 pm Depart Te Kowhai School
- Right into Horotiu Road
- Right into Te Kowhai Road
- Left to stay on Te Kowhai Road
- At roundabout take 4th exit to return on Te Kowhai Road
3:15 pm To drop off at Exelby Road just past the intersection
- Continue Te Kowhai Road
- Right to stay on Te Kowhai Road
- Right into Horotiu Road
- Right to stay on Horotiu Road
- Right into Onion Road
3:25 pm To intersection of Ridge Park Dr to turn around
- Return Onion Road
- Right into Horotiu Road
- Left into Crawford Road
- Right into Ngaruawahia Road
- Left into Bedford Road
- Right into Collie Road
3:35 pm To intersection of Couch Road and Collie Road - turn around
- Return Collie Road
- Right into Bedford Road
- Left into Horotiu Road