Absent/Illness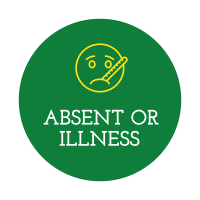 Email
General Information
Please advise the school when there is planned absence ie.
- holiday or medical/dental
- Running late (by 10 mins or more)
- Away sick.
We will ask what the illness is so that we can be aware of trends. If sick for three or more days a Doctor's Medical Certificate may be requested in line with School policy.
You can notify us via
- Phone call at anytime 07 829 7860, push 2 to leave a message
- Email to kerry@tekowhai.school.nz
- Pop in and see us at the office, if appropriate
If there is an absentee at class roll call, Kerry Crossland will communicate with you via text message or a phone call as child safety is of utmost importance. It is appropriate to advise the Office first and foremost as the Office communicates with MOE, advise Teachers as a courtesy.
If running late, anytime after 8:55am, students must sign in at the school office tablet.
Our Board of Trustees have set a 94% attendance target for every student, to give them the best chance of success in their education.