Sun Safety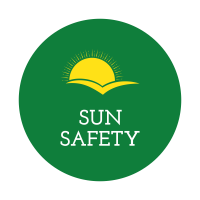 General Information
Sun Safety
During Term 1 and Term 4, students are required to wear their own sun hat any time they are outside. This includes before school, all classroom activities and break times. If students forget a hat, they are restricted to only playing under the shaded area beside the pavilion.
Sun block is provided in the classes and playground, however, if your child has specific requirements (i.e. sunblock allergies) they need to bring their own named supplies to school and apply at break times.
Sun Safety is taught as part of our Health and PE curriculum. We encourage appropriate clothing as well as to drink from the water fountains, which regularly have the filters changed and are checked for safe water quality.