Parking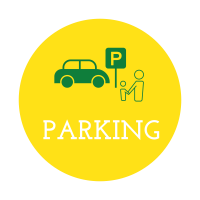 General Information
Parking (main, over road and bus bay)
The School has worked very hard on creating a safe free-flowing space for vehicles and users. Please contribute to this by being a courteous, safe and considerate driver.
Quick Drop Off/ Pickup Zone (outside School Office)
We have very clear terms of use of this zone. Please take the time to read the signs placed by this area. Essentially drivers must remain in their drivers seat, it is a 'pause space' so only for brief drop off or collecting children that are already waiting. Safe awareness is paramount at all times. No parking on the broken yellow line - that causes risk out on the main road. If your child is not waiting, ready for you, please park across the road at the hall until you see them emerge.
Main Carpark
If you are getting out of your car to assist your child, please park in the main zone. You are welcome to park in this carpark for as long as you like, at any time. If it is full, you can either use the staff carpark to the right of the school office or park across the road at the hall.
Hall Carpark
You are welcome to park in the hall carpark and cross at the crossing. Our student Road Patrollers have been fully trained by the police and are overseen by staff from 3-3:10pm.
DO NOT cross at other points. Adults must model correct safe practises.
If parking along the road, keep our neighbours driveways clear in line with the legal requirement.
Bus Bay
There are two carparks in the bus bay. If these are full please park in the main carpark or across at the hall.
DO NOT park in the through path. It must be kept clear at all times for the bus to freely use.